Metal / Plastic Hybrid Dog Collar Buckle
Standard Side-Release Buckles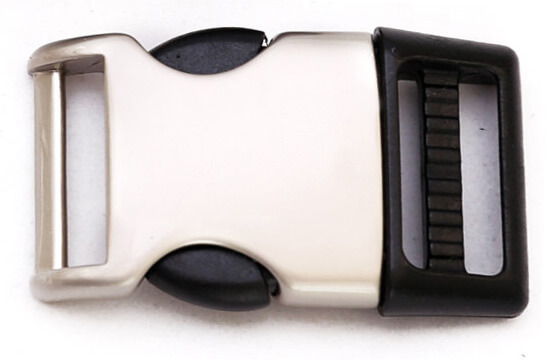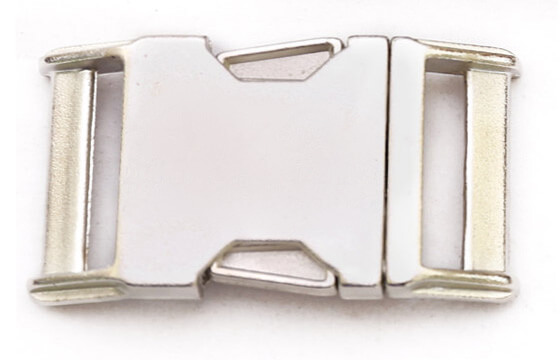 All our dog collars with buckles can be customized with a buckle of choice. We currently have 6 choices:
Standard Black Plastic
Hybrid: Black Plastic & Shiny Silver Metal
Hybrid: Black Plastic & Matte Silver Metal
Shiny Zinc
Matte Zinc
Brass Zinc
Black Zinc
Some facts about our metal buckle dog collars:
Engravable & Corrosion resistant
Hybrid buckles are silver nickel-plated aluminum & industrial-strength black plastic
Have a tensile strength of 250lbs
Not recommended for unsupervised tie-out use
Shop All Dog Collars
Stainless Steel Double Belt Style
Stainless Steel Single Belt Style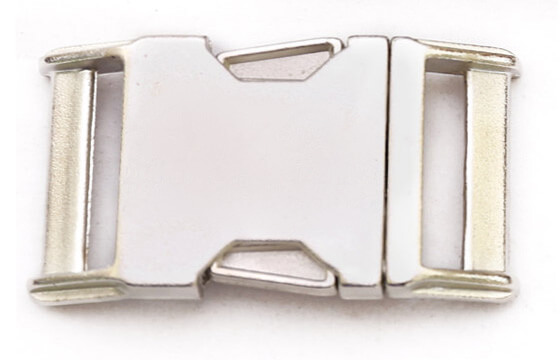 Leather collars can come with either side-release buckle or belt-style buckle, depending on style. Choose your favorite.
Side-release buckles options – see above.
We currently have 4 belt style options:
Brass Belt-style Single
Brass Belt-style Double
Stainless Steel Belt-style Single
Stainless Steel Belt-style Double
Shop Leather Dog Collars
The ultimate no-slip dog collar.
Martingale Collar
We pride ourselves in making super stylish, cool martingales for your pup!
How does it work?
Loosen the collar diameter with the tri-glide, and slide the collar around your dog's neck.
Tighten it up with the tri-glide to the correct size.
Attach your leash to the collar's dee ring.
When the dog pulls, the loop up front on the collar will tighten so your dog cannot escape their collar.
When adjusted correctly the dog is never choked, but the collar stays snug around the dog's neck until the pressure is released.
Shop Martingale Dog Collars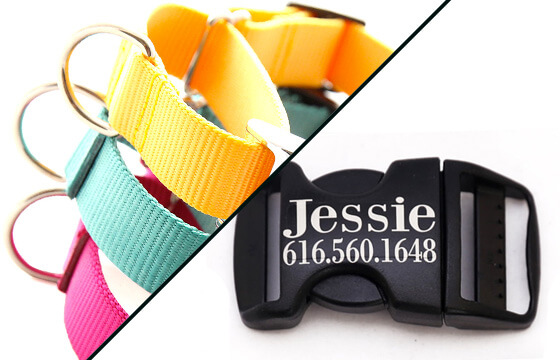 Best of both worlds!
Choose to upgrade any Martingale dog collars with an engraved buckle. All your dog's important information is engraved right on the buckle! This quick release buckle makes removal super easy.
Get Dog Collar Buckles Wholesale for Your Shop
In addition to individual orders of plastic and metal dog collars with buckles, you can get dog collar buckles wholesale along with other Mimi Green products for your retail store.
Find the Best Dog Collars with Buckles for Your Pet
Whether you prefer a hybrid plastic and metal buckle dog collar or a leather buckle collar, we have what you're looking for here at Mimi Green, with a large selection of designs and buckles that you can personalize with custom details. You can also complement them with plenty of other accessories from Mimi Green to keep your dog in style and comfortable.