Choosing the right size collar for your kitten or cat does  not  have to be difficult! Check out some frequently asked questions, learn how to measure your kitten or cat's neck size, and determine the size collar you need with our cat collar size chart below.
Cat Collar Size Chart
Use the cat collar size chart below to determine the collar size you need for your cat or kitten.
| Collar Size | Kitten / Cat NEck Size |
| --- | --- |
| Lil Cat (Small) | 6 – 10 inches |
| Big Cat (Large) | 9 -13 inches |
Note, there are also smaller sizes for indoor cats that can be as small as 4 — 6 inches in width.*
What Size Collar Does My Cat Need?
The size of collar your cat or kitten needs will depend on the current size of your pet.
For example, a kitten might need a 6-inch collar while an adult cat might need a 12-inch collar or larger. 
What Is the Average Kitten & Cat Neck Size?
The average size of a cat's neck varies from barely 6 inches in kittens to 12 inches or more in adult cats.
Depending on the size of your kitten, you may need an extra small kitten collar. For your kitten's safety and comfort, it is important to get a collar that fits your kitten or wait until the collar fits properly.
Average Cat Collar Size & Length
Most typical cat collars are less than a half-inch wide and 6 to 13 inches long. For kittens or large cats, you may need to get a collar that is made specifically for smaller or larger cats.
Are Collars Uncomfortable for Cats?

Collars can certainly be comfortable for cats, as long as they fit properly. Be sure to check your kitten or cat's collar frequently and loosen as needed. If you have a kitten, it is important to check your kitten's collar on a weekly basis—at minimum—until it is fully grown. If your cat is fully grown, you should continue to check the collar frequently to ensure it fits properly and is safely secured.
Should I Get a Breakaway Collar for My Cat?

Safety is an important thing to consider when selecting a cat collar. Cats have a talent for getting themselves stuck on things sometimes when they are out on adventures, and the last thing you would want is for their collar to get stuck on something and choke them. If you have a cat that spends time outdoors or unsupervised we recommend selecting a breakaway buckle collar. If they will be wearing it indoors only and you would like a personalized buckle, you may want to go with a typical side release buckle.
Cat Collar Measurements: How Do I Measure My Cat's Neck Size?
Use flexible measuring tape and wrap it around your cat or kitten's neck. However, be sure to not wrap it too tight; you want to measure where you want the collar to sit. In other words, don't push deep into the fur, because you want to be able to fit two or three fingers between your cat's neck and the collar.
If you do not have flexible measuring tape, you can use yard, a piece of string, or some other flexible material instead and then use a ruler to determine the measurement. Another great way to determine the size you need is to measure a collar that already fits your cat or kitten.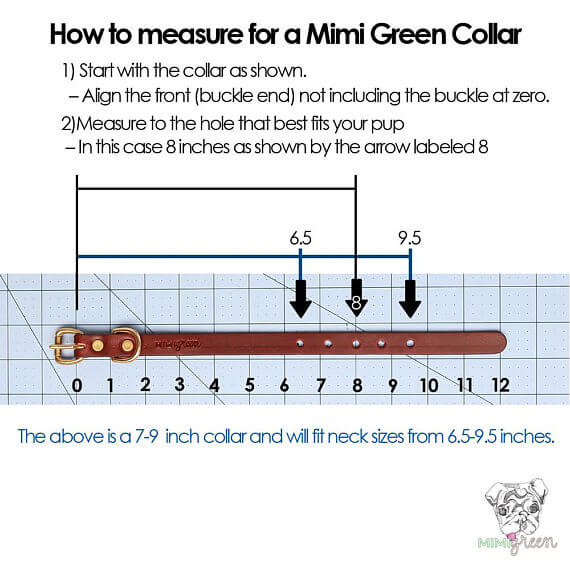 Get the Kitten or Cat Collar Size You Need at Mimi Green

Ready to purchase a cat collar, leash, or harness from Mimi Green? When you do, you are supporting a small, woman-owned business with beautiful, handmade products. All Mimi Green cat collars and accessories are handmade, unique items designed with quality materials and care to make your cat or kitten feel loved and adored. 
With some of our cat collar options, you can also customize the size, pick different buckles, and engrave your cat's name, address, contact information, and more. Shop our variety of cat collars, harnesses, and leashes today!
Not sure what size to order? Send us an email, we are always happy to help!
Contact US