Who doesn't love a new dog collar? We sure do, and we know there are endless choices to choose from. From adorable leather dog collars to floral canvas dog collars, it's no easy decision to choose a new collar for your dog.
At Mimi Green, we've seen our fair share of collars and are more than happy to share our favorites with you. We've rounded up our absolute favorite collars, and the list is pretty long. Here is our breakdown of our favorite 33+ cute dog collars.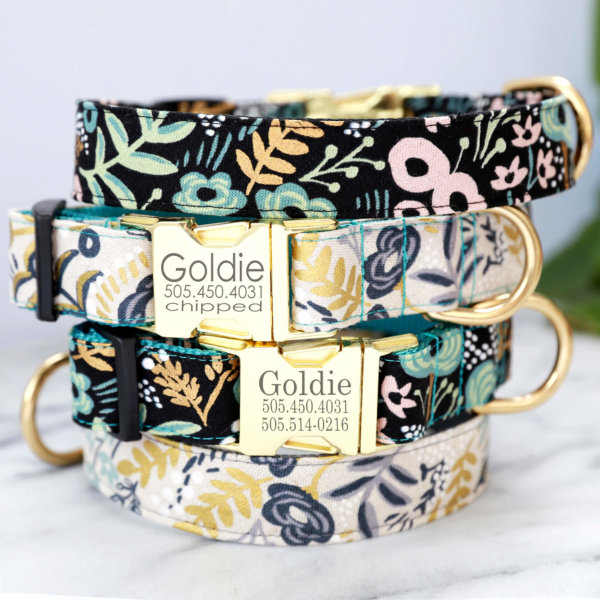 There's a reason this cute dog collar is at the top of our list. We love the floral and leafy design of this canvas dog collar, and we bet it would look great on your pup!
Florals are always a hit, so you really can't go wrong with a collar like this one. The warm tones of pink and blue are the perfect invitation to springtime!
The Slater collar is one of our most popular collars. It's an ideal fashion statement for a trendy pup. This collar combines orange, blue, pink, and yellow tones to create a one-of-a-kind geometrical design.
Looking for a floral print, but not a huge fan of bright colors? This 'Wildwood' collar is the solution. This collar is a simple gray tone with splashes of white florals. Great for a subtle hint of fun.
Polka dots are very much in style right now. Treat your pup to a trendy style with this polka-dotted piece. The simple white background with black dots is the perfect addition to any pup's wardrobe!
This is one of our grooviest cute dog collars. The 'Midge' collar gives us strong 70's vibes. So, if you and your pup are free-spirited, we think this is the collar for you!
Football season can be year-round with this adorable football collar for your athletic pup. This collar comes in four sporty colors and is the perfect pick for every football fanatic.
Martingale collars are great for strong, high-energy dogs who tend to pull a bit harder on walks. Lucky for you, this collar provides support in a stylish fashion. Our Leather Martingale Dog Collar is our go-to pick for large dogs.
You can't go wrong with black and white. This Herringbone Ribbon Collar is a simple yet fashionable statement collar. It's the ideal piece to give your pup a bit of fashion without overdoing anything.
This is more of a winter collar, but it's a must for all flannel lovers. Grab your favorite flannel shirt and match your pup with this warm flannel collar!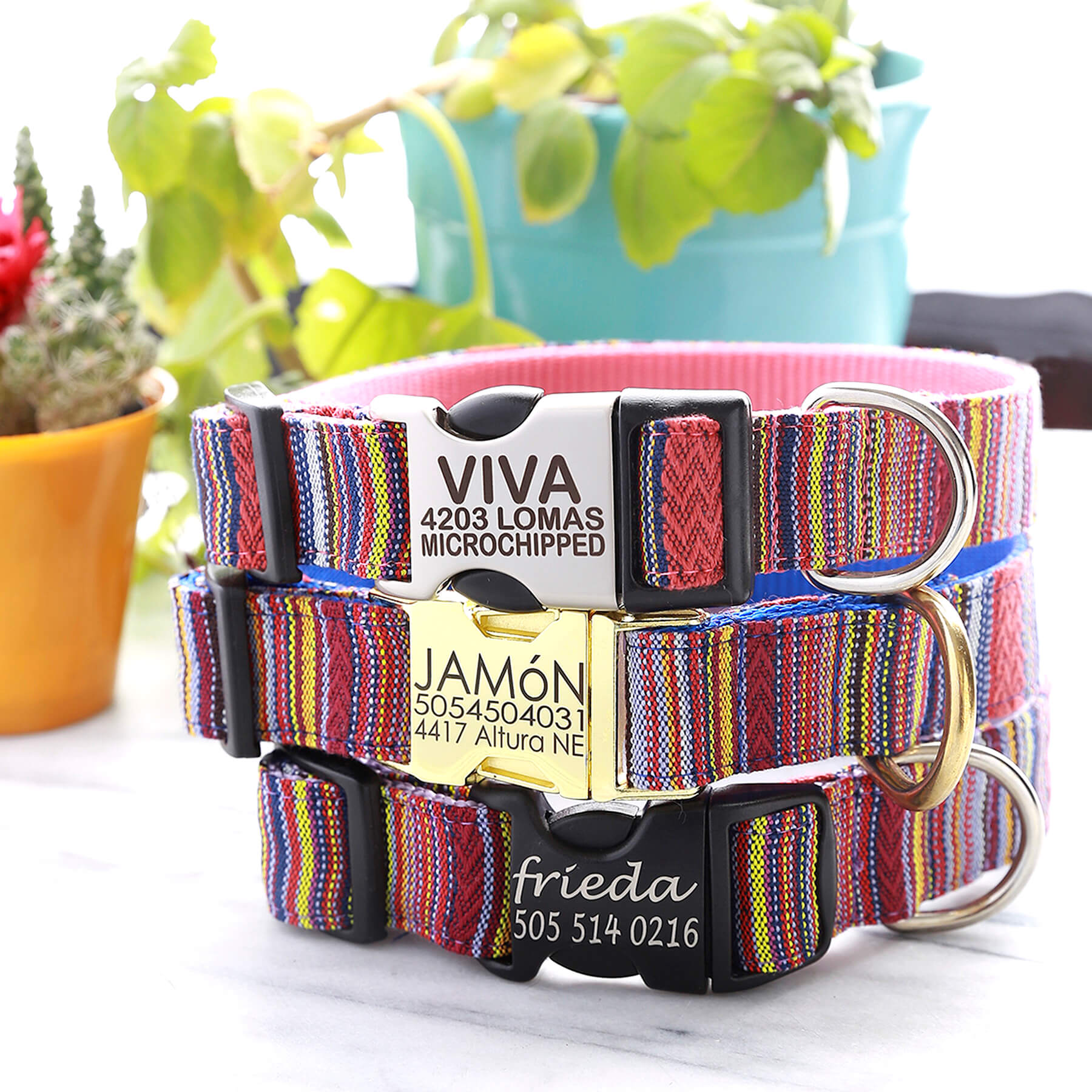 If you're looking for cute dog collars with stripes, this canvas collar was made for you. The thin stripes in this design provide such a unique, multi-colored design that's hard to find. You get every color of the rainbow with this one!
Who doesn't love yellow? This warm 'Honey' collar is such a cute dog collar for your active puppy. Yellow is the perfect color to match any dog's personality, so make this collar your own today!
Reflective dog collars are the solution for walks in the dark. They'll keep both you and your dog safe as they reflect light from oncoming car's headlights off your puppy's collar. This model of reflective collar comes in multiple colors, so you and your pup can stay fashionable yet safe!
Succulents are all the rave right now. So why not incorporate them into your pup's fashion? Combine your love of plants with your love for your furry friend with this gorgeous cactus dog collar!
Are you a vintage lover, but can never seem to get your pup in on the vintage shopping? Now you can with this gorgeous velvet collar with a vintage feel. The velvet embraces elegance, so you and your pup will be the talk of the town.
Out of all our cute dog collars, we're massive fans of this pick. A lot of dog owners don't want too much color on their collars, and that's why the Albuquerque collar is a great pick. It's a unique geometric design paired with a simple black and white color scheme.
This leopard collar is your fashionista pup's dream collar. There's no better fashion statement than animal print, so make your dog's dreams come true with this stylish collar.
Our hand-embroidered velvet collar is excellent if you're looking for the ultimate personalization experience. With this velvet collar, you still get the exceptional quality of velvet while also having the opportunity to embroider your pup's name directly onto the collar.
We thought cute dog collars couldn't get any cuter until we saw this collar. Our Linen Dog Collar comes with the option for a detachable bow. You can dress up your pup for your walks or just sitting around the house. Is there really anything cuter than a dog in a bowtie?
Puppies need smaller collars. And there's no better way to make your puppy or small dog look more stylish than with our personalized velvet small dog collar. The collar comes in bright colors, so your puppy is sure to stand out.
Nylon webbing collars are some of the most durable options for active dogs. They're fit to last for years, and this collar should be your number one pick. It comes in warm tones of lilac, purple, pink, indigo, and more, so choose your favorite today!
Classic leather is the way to go. Every dog looks great in a leather collar, so you really can't go wrong with this option. This model is stylish, durable, and long-lasting.
If you're looking for classy yet cute dog collars, we've got the perfect pick for you. Our 'Scotty' plaid collar is elegant yet stylish. The beige, combined with plaid overlaid stripes, is just what your high-society pup has had their eyes on!
Webbing is an excellent option for durable, cute dog collars. This style comes in various colors and feel free to embroider your dog's name directly onto the collar. This way, every passerby will know your pup's name before they even ask to pet them!
Love leather, but need a vegan, waterproof option? This collar is for you. It exhibits the class of leather while also being adequately prepared for any water activities that may come your way. It's the ideal minimal maintenance collar!
Studs don't have to be traditional. This studded collar with blue or opaque studs is one of our all-time favorites. This collar puts a unique spin on the classic leather studded collar, and we bet your pup will love it.
Another unique alternative to the classic leather studded collar is our Flying V Custom Studded Leather Collar. The design is unlike anything we've ever seen! It's a gorgeous play on tradition, and we know it'll match your pup's rambunctious personality!
The first time we saw this collar, we were speechless. The beauty of the intricately colored studs is unlike any other collar on the market. If you or your dog is a fan of leather but wants to stray from tradition, this is the collar for you!
Rose gold is in lately. This trend is taking over everything from home accessories to dog collars. We are in love with this Rose Gold Dog Collar. The pink base with hints of gold shining through is the perfect splash of style your pup needs!
Eggplant is one of the most eye-popping colors for any collar. This Eggplant collar comes with an optional bowtie or bandana so your pup can look extra cute in purple!
How could you not love this glow in the dark collar? This collar comes in both star and heart patterns. The stars and hearts glow in the dark, adding a bright glow to you and your dog's nightly walks.
Camo has made a comeback in the past few years. Treat your pup to this laminated camouflage collar in traditional green or stylish pink! The lamination ensures that this collar is built to last, so you can sport camo all year long.
All other cute dog collars need to step aside for this one. We absolutely love this 'Buttercup' collar. It's bright and summery. If you're looking for a new summer collar, this is your pick.
Want to go the extra mile in safety precautions for you and your dog's night walks? Our Neon Reflective Collar is your answer. The neon color paired with our reflective coating is the ultimate signal to cars that you are present. And this style comes in an array of colors, so choose your favorite neon today!
Are you and your pup Disney fanatics? If so, you can't say no to this 'Minnie' collar. It's almost identical to Minnie's outfit and such a great homage to Disney! Bring some Disney into your pup's wardrobe today!
There you have it, 33+ cute dog collars you should make your own today! For more cute dog collars, be sure to check out Mimi Green's entire custom dog collar selection today!